Plutus Fusion
Plutus Fusion

Configure

$

250.00

Plutus Fusion<span title="Configure" data-product-id="99960" class="bw-cart-page bw-init-product-config-btn"> <span>Configure</span> <i class="icon-settings icons"></i> </span>

September 6, 2020
Our Craftmanship
A truly timeless chronograph
The plutus fusion design laced together with customized QR Code is an innovative complication that makes it a timepeice for the new generation watch lovers and the crypto community. The Plutus Fusion is the first model of the new collection, in a limited edition of 150 pieces.
Materials
Your unique Cryptocurrency QR code
Crafted from stainless steel, the Plutus Fusion shimmers on your wrist, this combined with the black sporty rubber strap is the perfect infusion of elegance and style.
To go along with the stainless steel, we've included a matte black dial beneath the Sapphire Flat Glass, water resistance 5atm/50m, Matte black dial features an array of prosperity symbols as well as its own unique customizable Cryptocurrency QR code. This Crypto QR feature is the first of its kind and provides you with the option to have your very own BTC wallet address right on your wrist! All you have to do is configure your Bogat with our Custom QR Configurator and you're good to go!
Matte black background, embossed dial with Custom cryptocurrency QR code.
Hours, minutes, central chronograph seconds, 60 minute counter, 24 hour hand, date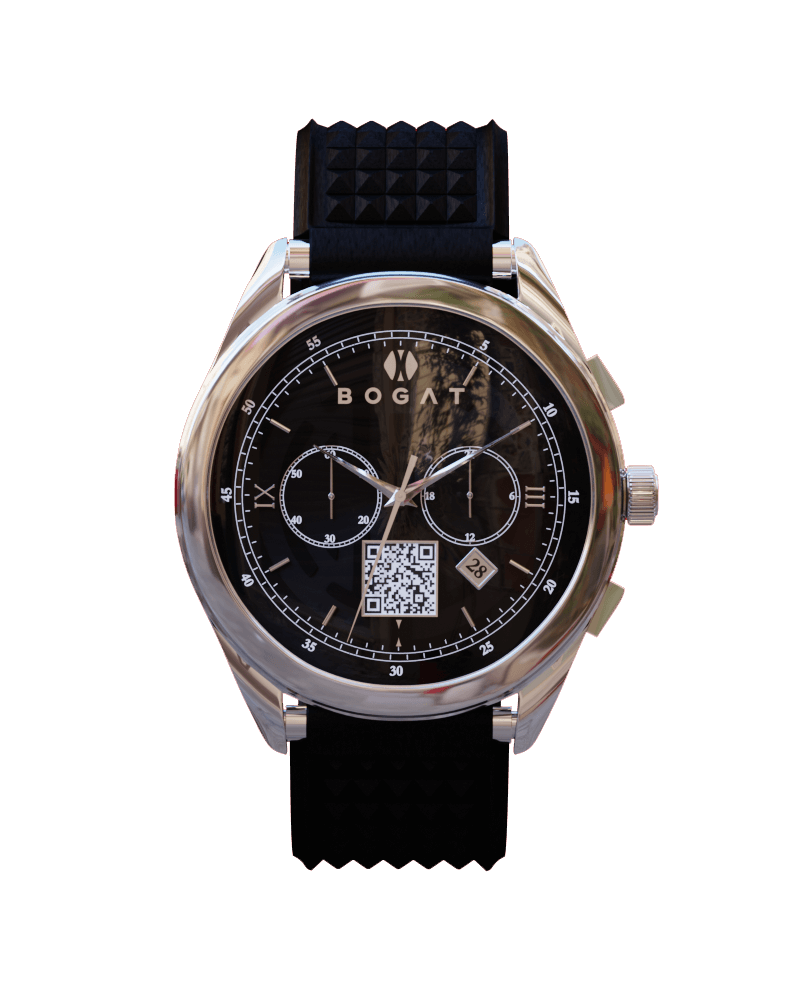 Shiny 316L stainless steel case body
Shiny 316L stainless steel, screw-down, crown with embossed logo
Brushed stainless 316L steel case-back with embossed logo