Blue Kubera
Blue Kubera

Configure

£

205.00

Blue Kubera<span title="Configure" data-product-id="99985" class="bw-cart-page bw-init-product-config-btn"> <span>Configure</span> <i class="icon-settings icons"></i> </span>

September 6, 2020
Our Craftmanship
Bold? Check. Brilliant? Check. A must have? Absolutely!
Such a beautiful watch wouldn't be complete without the quality to match, that's why we've added the highest quality leather strap coming in a blue colourway. This truly illuminates the watch on your wrist.
Materials
Matte blue dial featuring your unique Cryptocurrency QR code
The dial features a prosperity symbol as well as its own unique Cryptocurrency QR code.
This Crypto QR feature is the first of its kind and provides you with the option to have your very own BTC wallet and other crypto coins right on your wrist! All you have to do is sync up your watches with our QRcode Configurator on the website and you're good to go!
The dawn of cryptocurrency is upon us and we're the first to capitalise, be a pioneer and get our Blue Kubera, a watch where innovation meets design! In addition to this we've added luminous Japanese hands to make it really stand out!
Our Blue Kubera is all you need to take your watch game to the next level!
Matte blue Background, embossed dial with Custom cryptocurrency QR code.
Hours, Minutes, Seconds, Big-Date.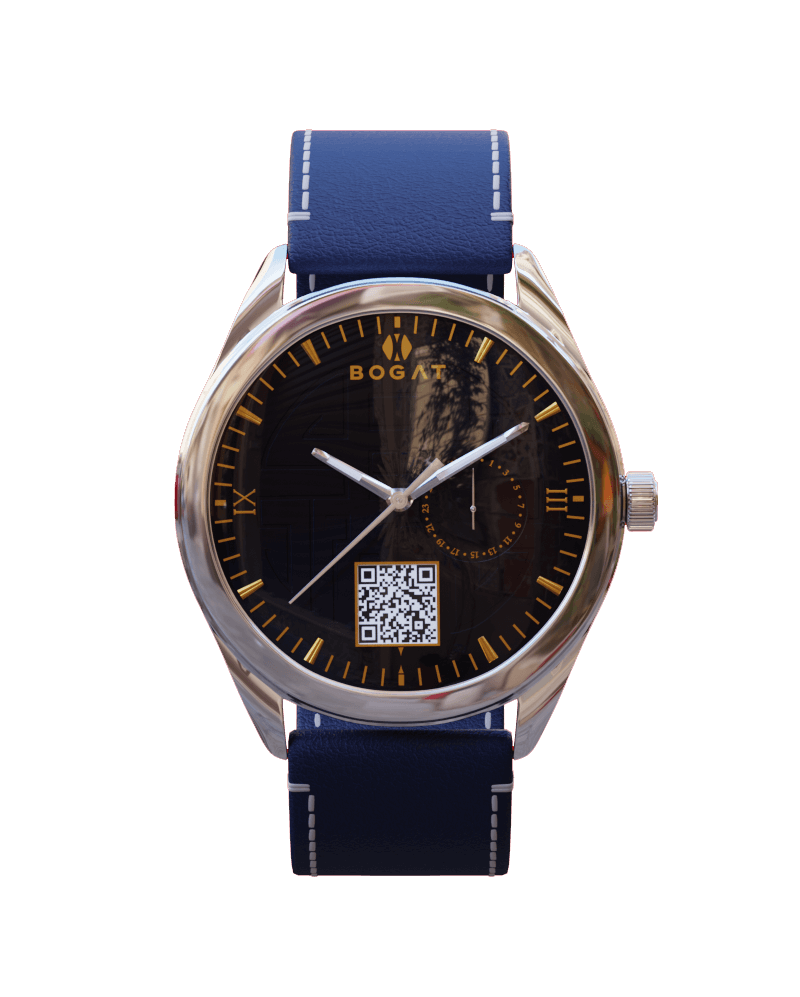 Shiny 316L stainless steel case body
Shiny 316L stainless steel, screw-down, crown with embossed logo
Brushed stainless 316L steel case-back with embossed logo
Top Layer Genuine Leather Strap.